I am a historian of race, ethnicity, and identity in the United States and Latin America. I am especially interested in social movements, immigration and migration, and comparative race and ethnicity, particularly Black and Latinx histories. I love to teach - it has been a constant companion throughout academia, and interactions with my students are my favorite part of my job.
I graduated from UC Santa Barbara in 2018 with my Ph.D. in history, with an interdisciplinary emphasis in Black Studies. While there I spent most of my time in History, Black Studies, Chicana/o Studies, and the Interdisciplinary Humanities Center (IHC). As an undergraduate at UC San Diego, I also worked across disciplines, which is why I am at my most comfortable in interdisciplinary frameworks. This shows in my teaching, since I use a variety of types of material and analysis in all of my classes.
I currently live in San Angelo, Texas with my husband (Doug) and my dog (Rudy). Doug is the head brewer at Zero One Brewing Company here in San Angelo, and makes the best beer in town (but I'm biased). Rudy regularly wins the hearts of everyone he meets. His favorite thing is cuddling and to "help" with anything, including grading.
I have a wide range of interests outside of being a historian. I like science fiction, fantasy, comic books, sports (especially baseball and basketball), being outdoors, and musicals. I trained in Aikido for over a decade, have a Ni-Dan (second degree black belt), and taught for quite a few years. Aikido has had a profound impact on how I look at the world and how I teach.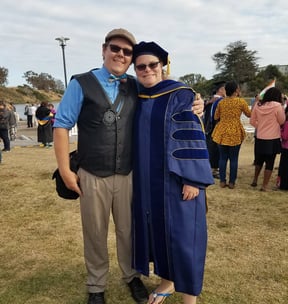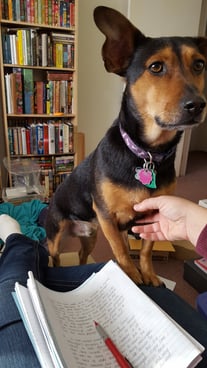 I have been involved with a few initiatives outside of the academic institutions I've been involved with. Some are related to my work with Little Liberia, others aren't. To learn more about my service, teaching, and research, including downloading my recent CV and the articles mentioned on this website, visit my academia.edu page: https://angelo.academia.edu/LauraHooton.
A digital history initiative in Delano, California, funded by a grant by the NEH. I was able to collaborate with Dr. Oliver Rosales on the project, especially in bringing to light local African American history stories. In the project's early days I was also invited to speak about connections between Little Liberia and the community in Allensworth, California.