Almost All Aliens:
Immigration, Race and Colonialism in American History and Identity, Second Edition
I co-authored the Second Edition of Almost All Aliens with Paul Spickard and Francisco Beltrán in 2022. This edition significantly builds on the first, including new material through early 2021. It is the most comprehensive and accessible single-volume book on the topic, and the first edition is used in classrooms across the United States. The second edition available as an ebook and in print.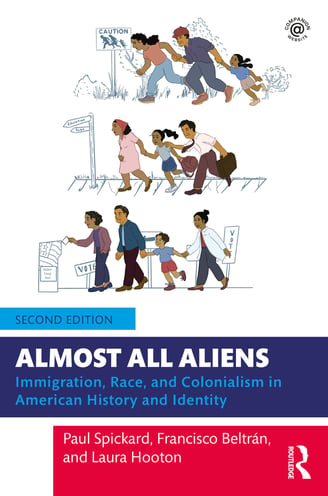 Almost All Aliens now available!
"Almost All Aliens is simply stunning. Spickard powerfully connects the study of immigration to the histories of race, slavery, and the displacement of Native peoples. In doing so, he revises both immigration history and American history."
- Historian Erika Lee, praise for First Edition
In 2014, Francisco Beltrán and I began working as research assistants for Paul Spickard for the second edition of the book. In 2016, Professor Spickard offered us the opportunity to co-author the book, and we eagerly accepted. We did not know then what we know now: that we would be writing the book during some of the most turbulent years in recent memory. We poured everything we had into the book amidst constant changes and uncertainty, eager to provide much-needed analysis and historical context to a chaotic present. We are proud of the book we produced, and it is the best of all three of us.
I compiled the information for the companion website, which contains extra materials. It is an effort to provide teachers and students with an expanded set of resources to dive further into the topic.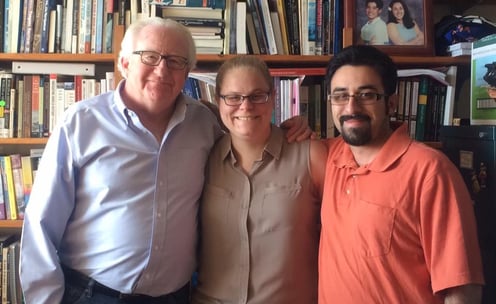 Almost All Aliens offers a unique reinterpretation of immigration in the history of the United States. Setting aside the European migrant-centered melting-pot model of immigrant assimilation, Paul Spickard, Francisco Beltrán, and Laura Hooton put forward a fresh and provocative reconceptualization that embraces the multicultural, racialized, and colonially inflected reality of immigration that has always existed in the United States. Their astute study illustrates the complex relationship between ethnic identity and race, slavery, and colonial expansion.
Examining the lives of those who crossed the Atlantic, as well as those who crossed the Pacific, the Caribbean, and the North American Borderlands, Almost All Aliens provides a distinct, inclusive, and critical analysis of immigration, race, and identity in the United States from 1600 until the present. The second edition updates Almost All Aliens through the first two decades of the twenty-first century, recounting and analyzing the massive changes in immigration policy, the reception of immigrants, and immigrant experiences that whipsawed back and forth throughout the era. It includes a new final chapter that brings the story up to the present day.
This book will appeal to students and researchers alike studying the history of immigration, race, and colonialism in the United States, as well as those interested in American identity, especially in the context of the early twenty-first century.